We are happy to invite for a teaching everybody who wants to obtain high-quality knowledge, excellent qualification, and rapid career growth in Ukraine and abroad.
Telecommunication Department teaches students for
SPECIALTY 172: TELECOMMUNICATIONS AND RADIO ENGINEERING
(FIELD OF KNOWLEDGE 17: ELECTRONICS AND TELECOMMUNICATIONS)
for the educational program:
ENGINEERING AND PROGRAMMING OF INFOCOMMUNICATIONS
Master's Degree in Educational and Scientific Program - 1 year 9 months
Master's Degree in Educational-Professional Program - 1 year 4 months
​
Master - educational and qualification level of higher education of a person who on the basis of the educational and qualification level of the bachelor has obtained a complete higher education, special skills and knowledge sufficient to perform professional tasks and responsibilities (works) of innovative nature of a certain level of professional activity.
Master's degree is the second level of higher education worldwide. Graduates, gaining in-depth knowledge in their professional field, are able to solve more complex problems or engage in analytical and research work.
As a result of the master's studies, the master receives the following benefits:
receives in-depth knowledge in his scientific direction and significant experience of research work;

gains experience in teaching and writing dissertations;

master's degree expands the scope of employment (practical, scientific, teaching activities).
In order to continue your studies with a bachelor's degree in the speciality 172 Telecommunications and Radio Engineering, you must pass two admission exams (professional exam and a foreign language (EVI)) and submit documents for Institute of Telecommunication Systems Selection Committee
within the specified time.
Acceptance of documents (submission of applications) and conducting of admission examinations for applicants for studying at the master's degree is carried out in the following terms:
reception of documents (application submission): from 05.08 to 22.08;

admission two examinations of current year according to the schedule approved by the chairman of the respective certification committee of Institute of Telecommunication systems:

foreign language (EVI) – 1.07.2020

professional – from 20.08 to 26.08.2020.
The results of the professional examinations are announced by the certification committee the day after the respective tests.
For entrants to the master's degree of Igor Sikorsky Kyiv Polytechnic Institute in 2020, the Admissions Committee developed two registration algorithms for foreign language examination (registration on EVI: from May 12 to June 5):
- for Igor Sikorsky Kyiv Polytechnic Institute graduates with bachelor's degree this school year (https://pk.kpi.ua/mag-register-kpi/)

- for entrants who have completed their studies in previous years or graduated from another higher education institution this year (https://pk.kpi.ua/mag-register-other/)
Dear entrants, the schedule and stages of the admission campaign for the 5th year in 2020 are posted on the page of the Igor Sikorsky Kyiv Polytechnic Institute" Admissions Committee
More detailed information on the rules of admission and conditions of admission can be obtained at Admissions Information on Master's Degree
Dear entrants! Due to the COVID-19 pandemic and quarantine measures, the timing may change. Stay tuned for updates!
2) Information for admission on the Bachelor's Degree (for foreign students)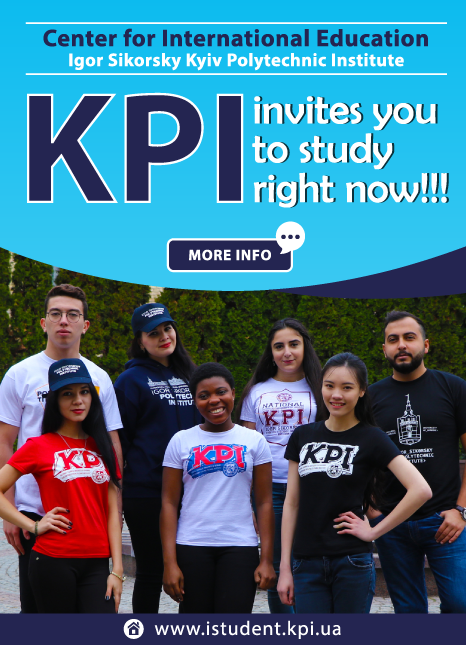 Please, visit Igor Sikorsky KPI Center for International Education: http://istudent.kpi.ua/en